Our experts have many years of experience in the tennis industry: They have worked with successful world-class athletes as national and international coaches for different federations and in all stages of player development.
They have coached at high schools, colleges and clubs working with players of all ages and levels. They lead coaching courses and present at national and international conferences but most importantly they continue working on-court on a daily bases keeping their thumbs on the pulse of the tennis industry.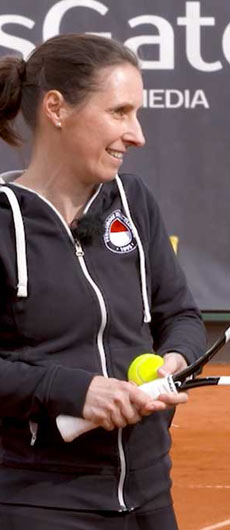 The combination of tennis motion design and award-winning sports analysis software results in the most innovative, attractive and definitely the most motivating professional analysis on the web. That, combined with decades of coaching expertise, makes TennisGate very special. Innovative moving images for visual coaching - that is our speciality.
TennisGate supports large organizations and federations worldwide with tennis media, training content and visual tennis concepts. We are specialized in member-protected online platforms and coaching as a service.
From 2015 to 2020, we digitized the education of the largest tennis federation in the world, the German Tennis Federation, and produced a platform for 15,000 coaches.
For the last 7 years we have been providing training tips and drills in a video platform to the members of the Professional Tennis registry (PTR).
In cooperation with the Baden tennis association we provide advanced training courses in the German TennisGate Academy, which are attended by German coaches for the extension of their coaching license.
Learning Tennis with visuals
60,000 faster in the brain
How quickly and effectively can players and coaches process information and above all: "Which information accelerates the development of the players and which ones really hinder them?"